All donations benefit youth lacrosse programs nationwide. Our goal is to continue to build the foundation for the next generation of lacrosse players by allowing players to develop and grow through various opportunities that we can provide.
Our son loved lacrosse and it enriched his life in many ways. We created this foundation to help others have the same experience.
We lost our son, Tyler Graham, in an accident in October 2021. Through our grief, we created this foundation in order to prioritize enriching the sport nationwide. Our mission is give back to organizations and players that share the same vision and enthusiasm for lacrosse that Tyler's school and club programs did.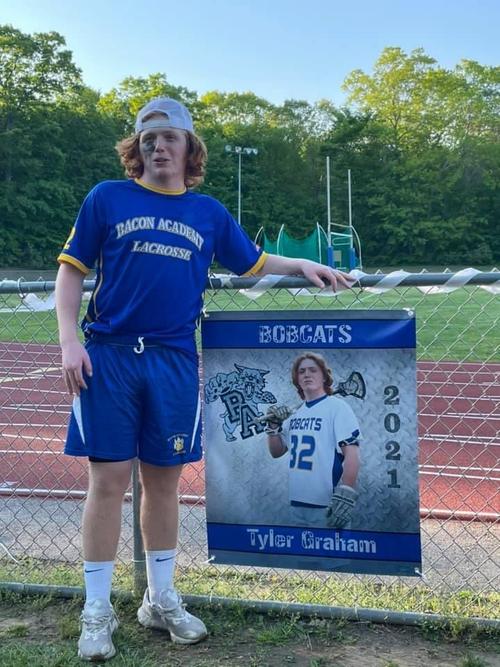 Our hope is to provide Lacrosse programs, across the country, with as much support and funding as possible.
All proceeds to the Tyler Graham Foundation go directly to the players and teams to enhance their opportunities.
In 2022, we are committed to provide new uniforms to the boys lacrosse team at Tyler's alma mater, Bacon academy.
It is our deepest hope that this foundation helps to strengthen Tyler's legacy.
January 20, 2003 - October 22, 2021
The Tyler Graham Foundation began in 2021 following the sudden death of cherished Colchester community member Tyler Graham, 18. Tyler was beloved by all who knew him and made a lasting impact on his community on and off the athletic field. He excelled in soccer and basketball, but his true love was lacrosse. He was known for his sportsmanship, passion and was a natural leader being awarded a captain in his senior year at Bacon Academy. His footwork danced him across the field earning him the nickname Mambo. His athletic prowess was recognized when he was awarded "All Conference" as well as "First Team All-State" his senior year. Tyler was a true team player who looked out for his younger teammates taking them under his wing and encouraging their growth in the sport he loved. Tyler was a graduate of Bacon Academy '21 and had just entered his freshman year at Western Connecticut State University, majoring in Business Administration and was very proud to continue his lacrosse career in college. To family and friends, Tyler exuded a strong protective streak and was known as the peacekeeper, a skill he perfected growing up between his two sisters. His smile would light up any room he entered and was known for his amazing sense of humor and goofy nature bringing joy to all around him. We thank you for taking the time to remember and honor Tyler through his foundation.